Pollinator Pathway Application
The Illinois Prairie Chapter of Wild Ones Pollinator Pathway Project is intended to improve the health and abundance of both pollinators and the native plants that sustain them. By mapping native plantings in Central Illinois, we hope to both build awareness of local native plantings and recruit participants to fill in the gaps where resources for pollinators are scarce. At this time, we are mapping plantings only in Livingston, McLean, Peoria, Tazewell, and Woodford counties. This is the initial roll-out of the program and other counties may be added in the future.
Why Creating Pollinator Pathways are Important
Modern land use patterns have nearly wiped out naturally occurring native plantings. Native plants, meaning the species that preceded European colonization, are vital because they have evolved with our native pollinators and provide them with the food and shelter they need to survive. The loss and fragmentation of pollinator habitat combined with exposure to harmful chemicals such as pesticides, herbicides, and fungicides have resulted in a steep decline in pollinator numbers. By joining the pollinator pathway and dedicating a portion of your property to growing native plants and pledging not to use insecticide in the planting, you can help bring the pollinators back.
To qualify for the program, all that is required is to pledge not to use insecticides in or near the planting and to have at least one native plant growing on your property. The best pollinator plantings include species that bloom in spring, others that bloom in summer, and still others that bloom in the fall. However, we welcome you to participate in the pathway with whatever size and type of native planting you have. We all have to start somewhere!
To Submit Your Property Plantings
On the Application Form, fill out which seasons you have native plants in bloom, provide a few examples of the native plants you have, and describe the approximate size of the planting.
The committee adds the submissions to the Pollinator Pathway Map on a regular basis. Your name and address will not be included on the map. If you are a resident of McLean County, your planting will also be included in the joint Illinois Prairie Chapter of Wild Ones/McLean County Greenways Pollinator Pathway map (coming soon).
If you need help determining in which season a plant blooms, refer to the University of Illinois Extension Wildflower website. You can search by either the common or scientific plant name and then click on the specific plant profile to see various plant characteristics.
Viewing the Pollinator Pathway Map
The Pollinator Pathway Map is a series of "pins" each identifying a specific location in the map area. You can zoom into a particular area by clicking on an individual "pin" to see the current size of the individual planting and the seasons plants bloom in that location.
Signage for Pollinator Pathway Participants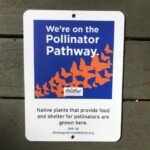 We are happy to announce our very own Pollinator Pathway signs are now available for Pathway participants. The signs are available for no charge to Pathway participants who are Wild Ones members. Pollinator Pathway participants who do not belong to Wild Ones may purchase a sign for $8. The signs are 8.75´ wide and 11.75´ tall and are printed on weather resistant 1/8´ thick plastic board and have pre-drilled holes at the top and bottom to facilitate mounting to a pole or fence. The signs were produced at Starnet in Bloomington and prominently feature the beautiful butterfly logo created by Doug DeLong of Osborn & DeLong graphic design studio.
We have kept the cost low in the hope that all Pollinator Pathway members will display a sign to show support for the project and encourage others to join. If you are on the Pathway and would like a sign, please email us at [email protected] and write Pollinator Pathway in the subject line. We will do our best to arrange pick-up or delivery of your sign. We can also mail the sign to you for $3.50.
For More Information About Native Plants
Please visit the Learn section of our website. Both the Handouts and Guides section and the Plant Information section contain a variety of useful resources about native plants.
The Natural Resources Conservation Service has an excellent section regarding pollinators, the plants they need, and garden designs on their website. You can access it at https://www.nrcs.usda.gov/wps/portal/nrcs/il/plantsanimals/insects+and+pollinators/
For more information about McLean County Greenways visit https://mcplan.org/greenways.
If you have questions about this program, please contact the Pollinator Pathway Committee using the Chapter's email address [email protected].